The below interview of our co-founder is a reprint from the magazine of EHL (the world's leading institution in hospitality management education) written by Beatrice Venturini. Original article here
Have you ever walked past a bubble tea shop and noticed hordes of young people queuing up outside – even in a pandemic – and asked yourself what all the fuss is about? Time to explore what makes this Taiwanese beverage so popular among its drinkers and such a viable business for its vendors. Interview with Roberto Panto, CEO of the quantum leaping Swiss brand, MYO Bubble Tea.
Bubble Tea: what, how and where did this drink trend originate?
Although it feels like a relatively recent drink trend, bubble tea has been a popular drink in Asian countries since the 80s. Somewhere between a fancy beverage and a snack, this crazy concoction seems to have grabbed the attention of the average young teenager thanks to its variety of colours, flavours and textures. Especially geared to the youth market, the drink has now gained enormous popularity throughout Australia, the States and Europe, and is showing no signs of stopping with new Bubble stores popping up on every street corner around the world.
This often technicoloured drink is based on a Taiwanese recipe of blending a hot or cold tea base with the choice of milk, fruit and fruit juices, then adding the signature "bubbles" – soft and chewy tapioca pearls that sit at the bottom. Tapioca is a starch extracted from the cassava root that is gluten-free and quite bland in flavour, but great in texture.
Bubble tea is served in transparent cups with a fat straw so that you can draw up the tapioca balls (also known as "pearls" or "boba") and chew them as you swallow the tea. The "bubble" in the name refers to both the tapioca balls and the many bubbles created by the vigorous shaking involved in the blending process.
Rumour has it that a teahouse called Chun Shui Tang in Taichung (Taiwan) began serving iced tea. The company's product development manager, Ms. Lin Hsiu Hui, was bored in a staff meeting one day and decided to drop her Taiwanese dessert, fen yuan (a sweetened tapioca pudding) into her Assam iced tea and drink it. It was so good that they decided to add it to the menu, where it soon became the franchise's top-selling product. Soon after seeing the success of this drink at one teahouse, concessions all over Taiwan started adding tapioca pearls and different fruit flavours to their iced teas, and so began bubble tea as we now know it!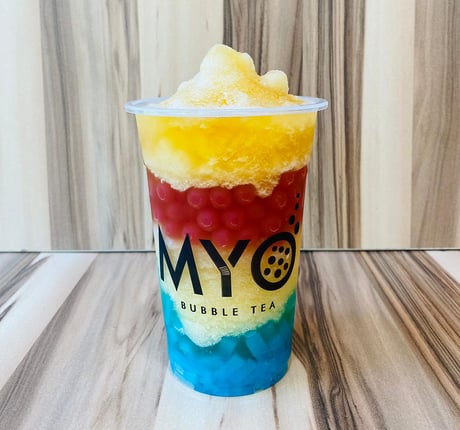 A Swiss Bubble Tea success story
After extensive travels through Asia, fledgling businessman Roberto Panto started his bubble tea venture from a pop-up stand at the communal swimming pool of Morges (a small town in the French-speaking canton of Vaud) in August 2019. All the drinks were prepared by hand with two crates of produce he'd ordered from Taiwan via France. True to what he'd suspected about this tasty, colourful and enticing drink, the people came flocking with queues over 30 meters long. By the second weekend, he'd run out of produce and was turning customers away. Come autumn, he had set up his own brand, MYO Bubble Tea, and was importing both the equipment and the ingredients from Taiwan with a view to running his own fixed spot bubble stores AND franchising his knowhow to other vendors wanting to try out this incredibly catchy business.
Two years later, Roberto has over 10 franchises in French-speaking Switzerland and is due to add another five within the next three months, (his phone rings during our interview with a bubble franchise enquiry from Val-de-Travers near Neuchâtel). In order to cope with the explosion in demand for bubble tea, he has surrounded himself with a highly motivated team dealing with the logistics from Asia, training franchisees, quality control, social media, etc. He supplies his franchising clients with everything from raw materials to the machines needed to start and operate a bubble shop, including logos, banners, flyers, signage, loyalty & menu cards, in exchange for a franchising fee.
RP: My aim is to transmit the bubble tea know-how and the best recipes possible. The franchising scheme is an easy concept and the formula remains exactly the same for every vendor (similar to the Starbucks or McDonalds model). Franchisees can choose between three different kinds of partnerships: turnkey concept store; shop-in-shop or buy the finished drink. Whatever the deal is, as long as there's good product, a strategic selling point, active social media and a willingness to work hard, a bubble tea business can only succeed.
Bubble Tea facts and best practices according to Roberto Panto
Clientele: Children (36%); young adults 15-25 (32%); adults +25 (32%).
Best location: Near schools, colleges, play areas, shopping malls and town centers.
Best times: Lunchtimes, after school, Saturdays.
Practicalities: Always get the shop ready two hours before opening time to slowly cook the tapioca, fill up the tea urns and warm up the sealing machines.
Tapioca: It should always be cooked very slowly for a minimum of 2 hours in order to become caramelized and soft but still chewy.
Best menu: Bubble tea menus should always be as interactive and DIY as possible with regards to the taste, texture and colour combinations. Customers should be made to feel that they are in charge of coming up with their own tailormade recipe.
Social media: Each Bubble tea should be visually exciting and instantly 'Instagrammable'. Encourage your customers to tag their bubble tea post back to the point of sale.
Eco-friendly: Cardboard straws and 100% biodegradable or recyclable plastic cups. The younger generations are especially sensitive to issues concerning the environment. A bubble tea establishment risks being less popular if these measures are not followed.
Innovation: In August we're launching a newly-patented cup insert, MYO POKET, which separates the pearls from the tea inside the cup. It will enable bubble tea brand to manufacture a bubble tea with several months of shelf life which can be stored in the refrigerators of retailers like COOP or convenience stores. It's a new business model that will enable these brands and their selected franchisees to manufacture a ready-to-drink version of bubble tea with a perfect taste and texture to delight consumers whenever and wherever they want. We plan to sell our solution to our competitors both in Switzerland and abroad.
General advice to Bubble Tea entrepreneurs
RP: My advice to anyone thinking of setting up a bubble tea store is to start off small, but always after having researched how to source the best ingredients. It is the quality of all the raw materials and the location of the store that will ultimately make the biggest difference to success and revenue. A first independent venture can be started with around 20K CHF. A franchised version can be started up at hardly any extra cost as long as the franchiser believes in the potential end result.
Another great tip is to think about how to split the activity between selling bubble teas and a compatible food sidekick, e.g. Poke bowls, sushi, cupcakes, sandwiches. Bear in mind that the peak sale of bubble teas is tied to specific times of day, so it's good to have a secondary activity on the side that stays more or less consistent throughout.
In order to keep consumers excited about your brand, you should regularly propose special deals and seasonal recipes (like the MYO Granita which we've just launched and expect to be a big hit this summer). Although bubble tea is a great domain for invention and variety, it's also important to stay true to the original recipes. No matter what innovative colourful fruit jelly cocktail variations you might come up with, never abandon the Taro, Matcha or Original classic favourites that add credibility and authencity to your menu and establishment.